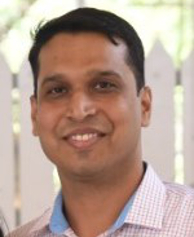 Sammer Amrutkar
Product Manager Asia-SmartCo
I am Sameer Amrutkar, have done my bachelors of engineering from VIT , Pune and MBA from Balaji Institute of Management Pune , both located in India.
I have 16+ years of industrial experience mostly in Defence and Aerospace market and have worked with organisations like Vishay, Hypertac, Weiler. I have handled Sales, marketing and operations at various stages of my carrier. In Nicomatic I have been from 8 years and is on a continuous growth path. Started with Business development manager for South and West region of India, then promoted to Director India and now Product Manager for SmartCo for Asia region.
Nicomatic whose DNA is to provide Interconnect solutions for Harsh Environments, has given me many opportunities to explore the Indian market and design in many of the connector solutions. These solutions find applications like Missiles, Radars, Aircraft, UAVs, Space and so on.
It's a wonderful experience until now and with the new product SmartCo it will still be new segment to explore.