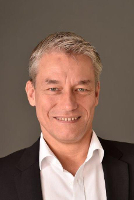 Gerald Steinhoff
Senior Vice President Corporate Sales Asia Pacific
Mr. Gerald Steinhoff has been appointed as Senior Vice President Corporate Sales Asia Pacific of Lufthansa Technik AG since 1 July 2014
Mr. Steinhoff began his career 1996 with MTU Aero Engines GmbH in Munich as a Project Controller. In 2003, he was the Head of Controlling in MTU Aero Engines North America Inc. before he became the Chief Financial Officer and Vice President in 2005. In 2007 he joined Lufthansa Technik in Hamburg as Director Management Accounting where he was a member of supervisory board of Lufthansa Technik Milan and Lufthansa Technik Intercoat. From 2010, he held the position of Director Business Development Component Services before he became the Project Manager We Grow in 2014.
Born on 28 November 1967, Mr. Steinhoff obtained a degree in Economics from University of Justus-Liebig. He subsequently obtained a MBA.