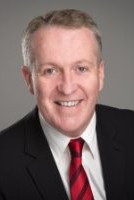 Peter Bellew
CEO
Peter Bellew was appointed Group Managing Director ("MD") and Chief Executive Officer ("CEO") of MAG and Malaysia Airlines Berhad ("MAB") on 1st July 2016. He brings with him over 20 years experience in the aviation industry. He holds a Bachelor of Business Studies (Hons) from the Trinity College Dublin, Ireland.
Peter Bellew joined MAB as Chief Operations Officer on 1 September 2015. He was appointed Executive Director on to the Board of MAB on 19 April 2016 and subsequently named Group Managing Director and Chief Executive Officer.
Prior to MAB Peter was at Ryanair where he served in various roles with increasing responsibility since 2006 leaving the airlines as the Director of Flight Operations for up to 72 bases, operating a total of 320 aircraft. In this role, he ensured cost effective operations and punctuality at more than 150 airports in over 30 countries, created a training organisation for 600 new Boeing pilots, built employee representative council structures in 19 countries, opened 61 new overseas bases, and introduced new technologies to reduce costs across the airline.
Peter also served as the Head of Sales and Marketing at Ryanair where he played a pivotal role in introducing new customer service initiatives, pan-European TV advertising, and positive press relations contributing to record sales. Prior to that, he served as Deputy Director Flight Operations.
Before Ryanair he was the CEO and founder of vbnets.com/wapprofit Ireland established in 1998, an IT service business focussed on mobile wireless technology.
Peter served as the Kerry Airport General Manager in Ireland from 1993 to 1997 and founded Kerry Holidays – an inbound tour operator to support new airline services to the region. Prior to that, Peter was the Drive Ireland Managing Director Liverpool, UK from 1989 – 1993, founded the first direct sell tour operators to Ireland from UK and later USA which had created a £2 million turnover business in 12 months.