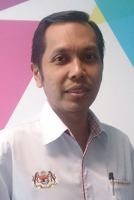 Shamsul Kamar Abu Samah
Head of National Aerospace Industry Coordinating Office (NAICO)
Mr Shamsul Kamar Abu Samah graduated from University of Portsmouth, United Kingdom in 1998 with a bachelor of engineering degree (Hons) in Electronic and Electrical Engineering. He also holds a Diploma in Electrical Engineering from Universiti Teknologi Malaysia in 1995.

Mr Shamsul is currently the Head of National Aerospace Industry Coordinating Office (NAICO), an office under the Ministry of International Trade and Industry (MITI). He joined NAICO since April 2016 after completing his excellent tenure as the Chief Executive Officer of Aerospace Malaysia Innovation Centre (AMIC). NAICO is established based on one of the key recommendations of the Malaysian Aerospace Industry Blueprint 2030 as the main agency in developing the Malaysian aerospace industry. NAICO under the leadership of Mr Shamsul is responsible to coordinate the overall implementation of Aerospace Blueprint initiatives, Eleventh Malaysia Plan's aerospace projects and the aerospace related Entry-Point-Projects. He also chairs the Technical Working Group for Aerospace Training and Education and a member to the Malaysian Aerospace Council during his tenure with AMIC.

In August 2016, Mr Shamsul was appointed as Honorary Professor in the Department of Mechanical, Materials and Manufacturing Engineering by the University of Nottingham Malaysia Campus (UNMC).

Prior to NAICO, he was appointed as the Chief Executive Officer of AMIC from February 2014 till March 2016. AMIC is a Government initiative to promote industry-led Research & Technology activities with the participation of renown global leaders namely AIRBUS Group, Rolls-Royce and CTRM in the areas of innovative composite manufacturing, advanced machining, aerospace tooling, virtual reality, bio-jetfuel and sustainable materials. Previously, he was the Head of Aerospace and Advanced Material at Malaysian Industry-Government Group For High Technology (MIGHT).

Mr Shamsul is a well-known aerospace industry expert particularly in formulating strategic plans and initiatives in accelerating the development of Malaysia's aerospace industry. He also led MIGHT team during the engagement with various OEMs and Tier 1 companies in securing strategic Foreign Direct Investment together with MIDA namely AIRBUS, RUAG, All Metal Services and Singapore Aerospace Manufacturing. Mr Shamsul was also one of the industry experts advising various Government agencies in several OEM's initiative to relocate manufacturing activities to Malaysia such as Rolls-Royce and Safran Group.

Earlier, Mr Shamsul spent over seven years (1999 until 2006) as a Senior Engineer at Sapura Defence Sdn Bhd. In that capacity, he organized various business development activities, tender bidding, project & contract management including operation management - mostly in the area of Flight Simulation System and Air Traffic services.

Formerly, he served Airod-Alenia Technologies Sdn Bhd as a Radar Maintenance Engineer during the period from year 1995-1996 and 1998-1999. In that role, he was responsible for the maintenance of Malaysian Air Traffic Control system, radar and communication system.