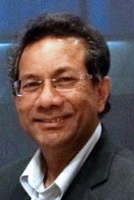 Mohammad Fuad Sharuji
Vice President, Operations Control Centre
Mohammad Fuad Sharuji is currently the Vice President, Operations Control Centre of Malaysia Airlines, responsible for the overall operational & emergency response and business continuity plans for Malaysia Airlines system-wide.
He is responsible to lead and manage Malaysia Airlines Corporate Emergency Response & Business Continuity Plan for the National Carrier and its subsidiaries, including all its overseas stations preparedness to major crisis.
Mohammad Fuad Sharuji is an Aircraft Maintenance Engineer by training, with a license on Airframe & Engines. He also has a MBA from University Tun Abdul Razak (UNITAR). He has more than 35 years experience working for Malaysia Airlines in various operational capacities and now heads the Operational Control Centre. Mohammad Fuad Sharuji is also the Crisis Director for MH370 & MH17.