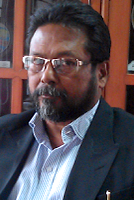 Pulak Sen
Founder Secretary General
Pulak Sen is the Founder Secretary General of MRO Association of India since 2011. He spear headed a movement to organize the then fragmented Indian MRO industry and formed the association on June 8, 2011.
MRO Association of India is a not-for-profit organization consisting of Indian MRO companies and it focuses on working with the Government of India is creating a level field for this important segment of the Indian aviation industry.
Since its formation, the association has been able to get a few benefits for the Indian MRO industry, such as complete exemption of custom duties on spare parts, aircraft tyres and test equipment, complete exemption of VAT in the state of Maharashtra, where Air India Engineering Services Ltd has its biggest MRO. The MRO Association of India has worked with the Govt of India, Ministry of Civil Aviation in formulating a Policy on MRO for the country.
Mr. Sen is a career journalist for the past thirty-seven years involved in reporting and writing on civil and military aviation. He has been in the country's 10th Planning Commission in the Sub-group on aviation. He is widely travelled and has visited aerospace factories globally. Currently he is organizing IndiaMRO-Aerospace & Defence a bespoke MRO exposition in Bangalore, December 1&2, 2015.