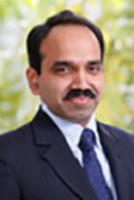 Rajendra Velagapudi
Senior Vice President, Engineering
Rajendra Velagapudi joined Cyient Limited in 1999. He currently leads delivery, innovation and growth efforts for the company's Engineering Operations unit. Rajendra also leads client relationship development, positioning Cyient as a solutions leader in the global engineering industries.
During his time at Cyient, Rajendra has played an integral role both in building a world-class engineering solutions team and nurturing partnerships with clients. He has also championed several quality initiatives at the company.
Prior to Cyient, Rajendra designed and analyzed powertrain systems for commercial and off-highway equipment. He began his career in 1987 in Ford's Truck Division, later transitioning to Bajaj Tempo and Bharat Earth Movers Limited.
Rajendra holds a degree in mechanical engineering from Siddhartha Engineering College (Vijayawada, India) and master's degrees from Madras Institute of Technology (Chennai, India) in automobile engineering and from Cranfield University (UK) in design.