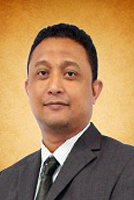 Zulfikri Osman
Chief Executive Officer
Zulfikri Osman is the Director of MARA Investment and Subsidiaries Development Division who is at task in exploring new investments and ventures opportunities for MARA. Having served MARA for over 15 years, he forms MARA's think tank team, and involved in developing the it's Strategic Plan 2011-2020. As the Director of the Investment and Subsidiaries Development Division in MARA, he leads the team to explore, assess and evaluate new investment opportunities for MARA, ensure and maintain corporate governance and new business development activities for all MARA's subsidiaries.
Zulfikri spent his early careers in The New Straits Times, afterwhich he ventured into various role such as enterpreneurship development with MARA, and Diplomatic Attache under the Malaysian High Commission Office, UK. Today, Zulfikri sits at the board of Pelaburan MARA Berhad (PMB), and MARA Inc. (London).
In February 2014, Zulfikri was appointed as the Chief Operating Officer for MARA Aerospace and Technologies Sdn Bhd (M-AeroTech), tasked to drive MARA's growth into the high value, high growth aerospace sector. Through M-AeroTech, a brand called Asia Aerospace City (AAC) is built, aimed to make Malaysia as the aerospace hub in Asia. Zulfikri has been instrumental in engaging industry players and government agencies to respond to market needs in this region.