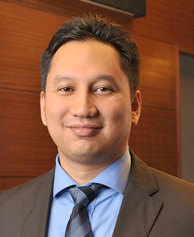 Naguib MOHD NOR
President
Naguib holds a BEng. Aerospace Engineering from UMIST and a MSc. Aerospace Vehicle Design from Cranfield. Started his career as a Structures Engineer in the UK, and had done wide-ranging technical work for major aerospace clients. Founded SAM in 2006 as a startup company and grew the company from 5 to +130 Malaysian engineers by 2013, successfully getting SAM recognized as the leading Aerospace Engineering Services provider in Malaysia.
In 2013, Naguib was appointed as the Chief Technical Officer for MAT, a wholly owned subsidiary under MARA. MAT is tasked with developing the Asia Aerospace City (AAC) through its six business pillars; Engineering Services, Research & Technology, Business Consulting Centre, Professional Development Centre, Infrastructure and Investment. AAC offers a complete business ecosystem through its high-quality engineering services, industry-relevant human capital, iconic infrastructure, and government support. SAM in partnership with MAT currently runs The Professional Development Programme (PDC), a unique human capital development programme designed to create industry-ready human capital of international standards for employment in aerospace and/or high technology engineering companies.
With his unique experience running a globally competitive engineering business that is partnered with a National aspiration, Naguib had been appointed the President of the Malaysia Aerospace Industry Association (MAIA) in March 2016.
For the past ten years, Naguib has been invited to speak in numerous global and local events and is often referred to for expert insight in the Malaysian Media. Naguib is a frequent speaker at industry events such as Global Aerospace Summit in Dubai, Kuala Lumpur International Aerospace Business Convention, and Langkawi International Maritime & Aerospace Exhibition. He is also a regular speaker at MOOC (Massive Open Online Course) at Taylor's University and other universities programmes. Others include media interviews on local TV and Radio stations such as Biz Talk on Bernama TV and The Breakfast Grille on BFM.