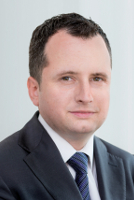 Christian Meyer
Managing Director
Christian Meyer is Managing Director at SR Technics Malaysia, a leading aircraft component service center in Asia Pacific. Christian has over 10 years of experience in the corporate arena of strategy consulting, business development and corporate strategy.
Before moving to Malaysia Christian led the Corporate Strategy and Business Development Department at SR Technics' global headquarters in Zurich, Switzerland, working an integral part of the team establishing the company's operations in Malaysia and prior to that in Australia. Previously Christian was working as a consultant at Oliver Wyman, one of the leading global strategy consulting firms.
Christian holds a Master Degree from University of St. Gallen and an MBA from Nanyang Technology University, Singapore.