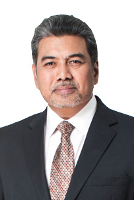 Badlisham Ghazali
Managing Director
Taking helm of this 10,000 strong company with a combined asset of more than RM10 billion, Datuk Badlisham is responsible for steering the company towards its vision of being a global leader in creating airport cities.
He drives the vision by leading the implementation of the KLIA Aeropolis master plan, including building successful partnerships, providing total transport and digital connectivity and ensuring sustainable development of the surrounding environment and community.
Datuk Badlisham puts strong emphasis on delighting customers by advocating a culture of continuous innovation and service excellence.