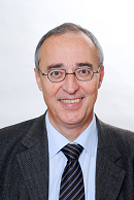 François De Bortoli

Head of Airbus Industrial cooperation for Malaysia and Singapore
François de Bortoli has an aeronautical engineering background and has been working with Airbus for more than 30 years.
He started his career in 1985 at the Flight Test department of Aerospatiale (former Airbus), and was in charge of the flight by wire systems development and qualification for the A320 Single Aisle program. He moved in 1989 to the Operations to deploy the lean process in the French Airbus factories. Then, in 1993, he joined the Procurement organisation where he had for 13 years different responsibilities in Airbus and in ATR as head of the Supply Chain and Procurement for Systems and Equipment.
In 2006 he came back to Airbus and enhanced his experience in Systems Supply Chain implementing and developing the Airbus Systems Suppliers Council board.
He later expanded his worldwide Supply Chain experience to the Aerostructure commodity as head of the Airbus Aerostructure global sourcing in 2009.
Three years ago, he joined the Airbus strategy department as head of Airbus Industrial cooperation for Malaysia and Singapore and other South East Asia and Oceania countries. MR. Bortoli also holds the position of offset senior director.
Head of Airbus Industrial cooperation for Malaysia and Singapore