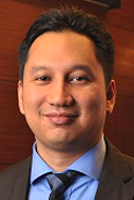 Naguib Mohd Nor
Chief Executive Officer
Naguib holds a BEng. Aerospace Engineering from UMIST and a MSc. Aerospace Vehicle Design from Cranfield. Started his career as a Structures Engineer in the UK, and had done wide-ranging technical work for major aerospace clients. Founded SAM in 2006 as a startup company.
In 2010 SAM was selected to spearhead the development of the "Pure Play Engineering Services" industry for Malaysia as part of the government's Economic Transformation Programme (ETP). Here Naguib works with government and industry representatives to execute a detailed roadmap to position Malaysia as a hub for "high value engineering services". In fulfilling this responsibility Naguib sits on the Steering Committee of the ETP and reports directly to the Ministers in charge. SAM is also a member of the Malaysian Industry Council for Defence, Enforcement and Security (MIDES). SAM has been continuously involved in developing human capital development programmes for engineers with the Ministry of Higher Education and the Council of Trust (MARA). Naguib also sits on the Board of Advisors for several Engineering Faculties of Malaysian universities.
In 2013, Naguib has been appointed as the Chief Technical Officer for M-AeroTech, a wholly owned subsidiary under MARA. M-AeroTech is tasked with developing the Asia Aerospace City (AAC) and proposed new Entry Point Projects (EPPs) for ETP covering SME and Industrial development in close collaboration with global OEM's. M-AeroTech is also the executor of the Ensuring Employability Programmes of MARA aimed at developing World Class engineers directly employable by the industry. In addition to provide the content of AAC in terms of providing the Human Capital Development, M-AeroTech also offers its Business Consulting Centre, a business support and consultancy organisation whose focus is to ensure the success of aerospace and technology companies in Malaysia.