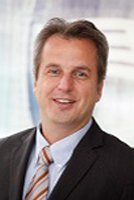 Robin Johansson
Director Sales South East Asia and Australia/Pacific
Mr. Robin Johansson has been appointed as Director Sales South East Asia and Australia/Pacific for Lufthansa Technik AG since 2008.
Mr. Johansson joined Lufthansa Technik in Hamburg in 1997 as a Product Sales Manager in the Product Management and Development. In 2001, he took up the position as a Senior Sales Manager in the Sales Department. From 2004 onwards, he took up the challenge and moved to Singapore Branch office which he was managing the key accounts of various countries in the South East Asia.
In 2006, he was assigned to India to become Senior Sales Manager and Representative for the Indian subcontinent one of the most important market for Lufthansa Technik before he became Director Sales.
Mr. Johansson was born on 5 October 1967. He studied aeronautical engineering at University in Hamburg.