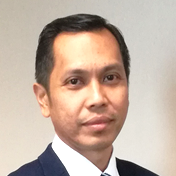 SHAMSUL KAMAR ABU SAMAH
Head, National Aerospace Industry Coordinating Office
Prof. Ts. Shamsul is currently the Head of National Aerospace Industry Coordinating Office (NAICO), an office under the Ministry of International Trade and Industry (MITI). He joined NAICO since April 2016 after completing his excellent tenure as the Chief Executive Officer of Aerospace Malaysia Innovation Centre (AMIC) from February 2014 till March 2016. Previously, he was the Head of Aerospace and Advanced Material at Malaysian Industry-Government Group For High Technology (MIGHT).
Earlier, Prof. Ts. Shamsul spent over seven years (1999 until 2006) as a Senior Engineer at Sapura Defence Sdn Bhd. In that capacity, he organised various business development activities, tender bidding, project & contract management including operation management - mostly in the area of Flight Simulation System and Air Traffic services.
Formerly, he served Airod-Alenia Technologies Sdn Bhd as a Radar Maintenance Engineer during the period from year 1995-1996 and 1998-1999. In that role, he was responsible for the maintenance of Malaysian Air Traffic Control system, radar and communication system.
In August 2016, Prof. Ts. Shamsul was appointed as Honorary Professor in the Department of Mechanical, Materials and Manufacturing Engineering by the University of Nottingham Malaysia Campus (UNMC).
Prof. Ts. Shamsul graduated from University of Portsmouth, United Kingdom in 1998 with a bachelor of engineering degree (Hons) in Electronic and Electrical Engineering. He also holds a Diploma in Electrical Engineering from Universiti Teknologi Malaysia in 1995.